Prices, terms and conditions and methods
My passion is helping you find your happiness-programs and your fulfilment in life. Self-acceptance, more freedom, empowerment, self-esteem and control by changing the beliefs that limit you, in multiple areas of life and multiple programs that you have built in your life.
Coaching and Hypnotherapy is not only for when you are experiencing problems in your life. It can also be used to provide insight into other areas of your life that you may wish to manage better. 
Would you like to stay informed and regularly read interesting, educational  and fun posts about hypnotherapy and personal development? Like my Facebook page Erica Hypnotherapy & Coaching. Or click on the link on the right top corner of my homepage.
HOW CAN YOU PROFIT VAN HYPNOTHERAPY AND/OR COACHING:
Find your true dream, goal or desire in life
Solve your problems and beliefs that hold you back and reach your goal
Take responsibility for the results you have for your area of life
Shape your character and personality to get the desired effect in your life.
Get a good relationship with all your memories and have control over the past
Understand and learn to deal with your emotions
Gain insight into your "chance of disguises" that reside in your sense of failure and pain
Integrate the new changes directly into your daily life
Make commitments
Create your personal success script, with a new self-image
Attune your self-image to the person you are in the script.
Train yourself to think, evaluate, decide like the person you want to be
Never avoid situations again, by giving old meanings new meaning
Integrate what has been learned into the analytical mature mind
Nothing in the universe is right or wrong. It is thinking the that makes it so.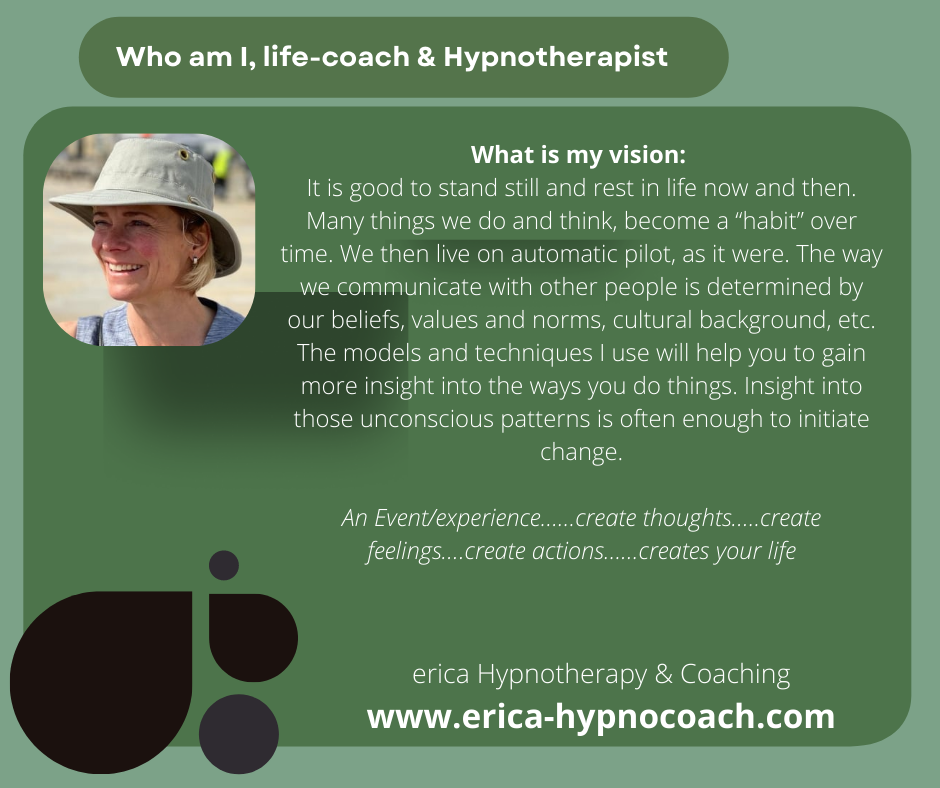 Intensive personal development program
AN EYE OPENING AND EMPOWERING PROGRAM DESIGNED FOR THOSE WHO QUEST FOR LONGLASTING REVELATIONS END EXPERIENCE AN ASTONISHING EFFECT ON THEIR DAILY LIFE
Do you regularly run into the same obstacles in your life, and do you therefore want to break with old patterns and coping strategies? Would you like to permanently solve these issues and the beliefs that are holding you back from achieving your goals?
By taking control of the past you can learn how to understand how to deal with your emotions and establish a positive relationship with your thoughts and memories.
10 sessions, divided over a 12 week period £722,50,- (=15% diescount) ♦
60-90 minutes per session
Alternatively you can pay in 2 instalments

(session 1: 1st instalment £500,- , session 6: 2nd instalment £222,50)
This program will be tailored individually, to meet your needs, your obstacles, your goals etc.  giving you the insight and tools, that work best for you.
For example:
Understand your "map of the world", that influences your communication-process, thinking, coping mechanisms and behaviours.
Gain insight into your thought patterns and survival strategies that may no longer work for you.
What is your true mission in life and what part play your beliefs and values in reaching that goal?
Break with old, limiting behavioural patterns and shed your negative beliefs about yourself
What are your presuppositions, that are your "rules for life"
And much more…….
All sessions can be done face-to-face in the practice in Weston Super mare, or worldwide online.
6-months Fine-Tuning subscription
Coaching & Hypnotherapy is not only for when you are experiencing problems in your life. It can also be used to provide insight into areas of your life that you may wish to manage better
Would you like to do some fine-tuning on some parts of your life, with monthly sessions, about individually chosen and tailored topics? You can do that with a 6-months subscription.
One session, each month, over 6 months £475,-
Prices, terms and conditions
Treatment prices per session
Contact me for a free enquiry, online or by telephone.
Intake session 60-90 minutes £50,00
Session 60-90 minutes £85,00
A course of 5 sessions 5% discount on the sessions
Personal Development Plan 15% discount on the sessions £722,50
6-months fine-tuning subscription £475,-, 6-sessions
Online coaching sessions can be done face-to-face or worldwide in English and Dutch.
For the prices in €, the current exchange rate will be applied.
NOTE: Online sessions must be paid via an invoice, prior to the start of the session.
Terms and conditions
Contactless payment directly after the session
Payment for online sessions must be made prior to the session, by means of an invoice.
5/10- and tuning-sessions must be paid in full after the first session of the series, to receive the discount.
5 sessions must be completed within 8 weeks
10 sessions must be completed within 12 weeks
Sessions are not transferable to other persons
Extension of the term is not possible
Cancellation policy
Cancellation and changes must take place at least 24 hours in advance. If cancelled within 24 hours, the full treatment costs will be charged:
The costs for cancelling or rescheduling a treatment as a result of illness or COVID-exposure within the cancellation period is always GBP 10. This is allowed a maximum of 2 times, with a third time the full amount for the booked treatment will be charged.
Congratulations! You have already taken the first step. This sometimes is the biggest step, in the self-recognition, that you could use some help to deal with whatever it is you would like to overcome. It is by no means a sign of failure! It is not! You have taken control of your situation. Others may muddle along with their problems, but 'you' have decided that you deserve more and with the right help, 'you' can make a difference to your life.
Coaching methods and Qualifications
The treatments I provide are often a combination of the various therapies I practice in. This way, we can tailor your session with a combination of these methods in a way that suits your particular needs and will benefit you most. Our collaboration is teamwork.
I;m a qualified in the following methodes:
2017 EFT Practitioner and Master (Emotional Freedom Technique)
2018 NLP-Practitioner (Neuro Linguistic Programming)
2018-2019 NLP Master-Practitioner Coach
2019-2020 Hypnotherapy
2020-febr. 2021 EMDR therapy, Eye Movement Desensitisation & Reprocessing
2021 CBT, Cognitive Behavioural Technique
If you want to know more about a selected method, you can click on the method below. 
Cognitive behavioural therapy (CBT) is a form of psychological treatment that has been demonstrated to be effective for a range of problems, including depression, alcohol and drug use problems, eating disorders and other mental problems.
Eye Movement Desensitization and Reprocessing (EMDR) therapy is an extensively researched, effective psychotherapy method proven to help people recover from trauma and other distressing life experiences.
The Emotional Freedom Technique is a short and easy-to-remember method to bring positive changes in your life. It is part of Energetic Psychology and is a method to get rid of inhibitions, fears and other negative emotions.
NLP stands for Neuro Linguistic Programming. NLP models and techniques help you to gain more insight into the ways you do things. Insight into those unconscious patterns is often enough to initiate change.
6-months Fine-Tuning subscription